Blue Bottomed Brass- You make the Rockin' World Go Round
Sometimes you finish a job and you don't want to leave! We had quite a good time on this current kitchen remodel. We were called in to bring new life to an outdated kitchen that was in dire need of help. Old soffits, green laminate counters, linoleum flooring and a scratched up door from her awesome little dog, Emma. We think she looks like a red Panda. More on her later!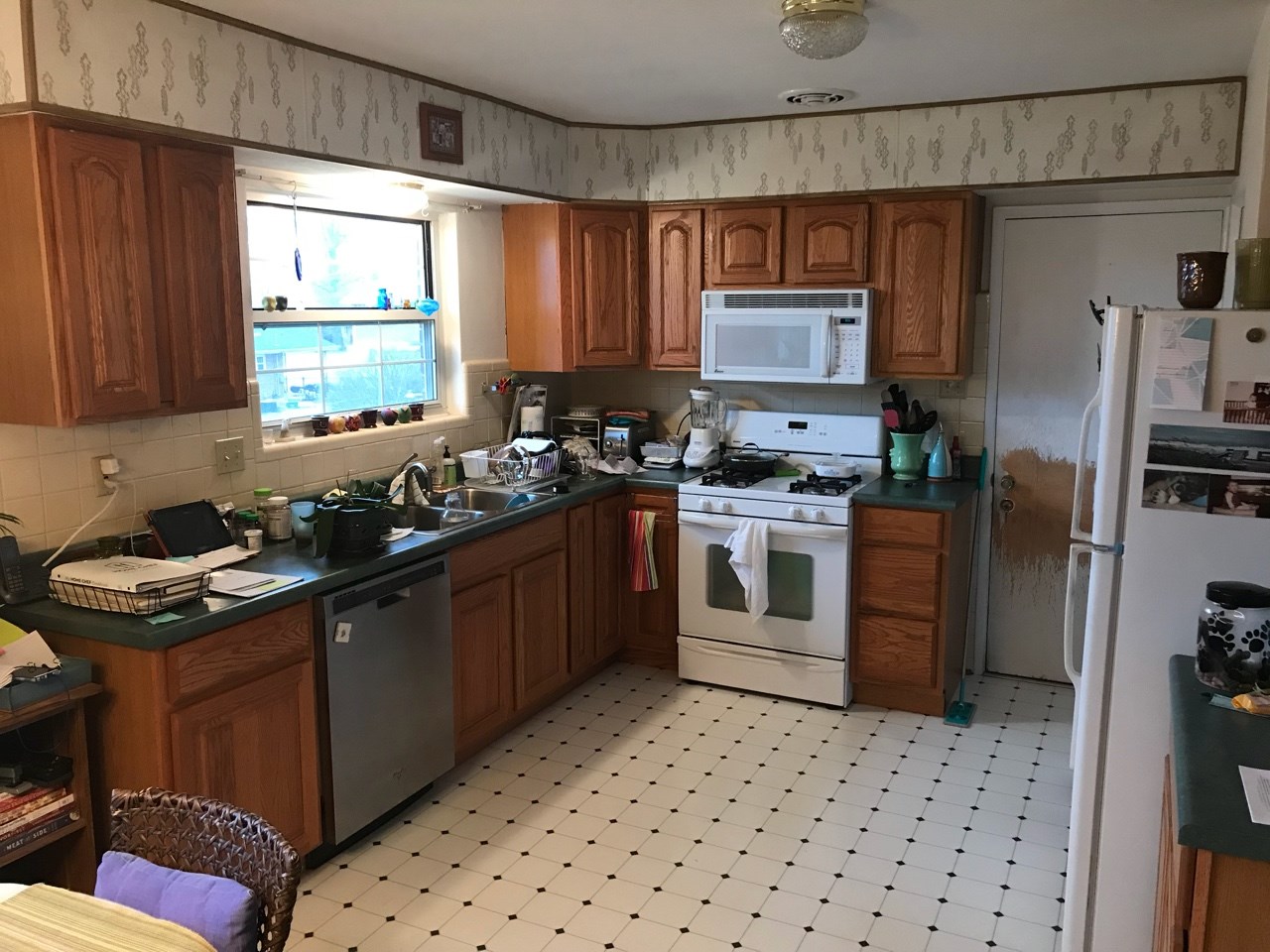 Our client had a pretty fun vibe throughout the rest of the house. She's an avid collector of antiques and mid century modern pieces and loves the feminine detail in design as well. She wanted something that was her but pushed her a little out of her comfort zone. She was up for being challenged. We love her spirit and her trust in our design! It wound up being such a fun collaboration. In one of our first design meetings, I learned of her love for the sea. She loved her glass baubles that hung in her window. She collected blue glass dishes. She still wanted the softness of her linoleum flooring. She worked from her kitchen table often and needed a catchall space. We capture details like this to see what you do in your space and what makes sense for you. Not just for practicality but for design as well.
I pulled a few design options together, but we settled on combining classic white shaker cabinet uppers with a bold blue shaker on the bottom. She didn't want an all white kitchen, but the brightness of the white would open up her space so much more! The blue lowers were designed to ground the space and call on her love of the sea.
We chose antique french brass accents in the pulls and light fixtures. This brass is not the brass of the 80's! This feels like a more classic finish you'd find in antiques or antique hardware. Call back to her love of antiques. Also, that brass with the blue. It's striking.
We talked about the glass baubles she liked hanging in her kitchen window and decided to replace them with glass light fixtures. This streamlined the space but still gave her an element in the kitchen that makes her smile everyday. The curve of the glass chandelier over the table brings in more of the feminine curves that are more her style as well.
We replaced the linoleum with an engineered tile floor that is soft and warm underfoot and chose a warm tone of grey. We kept the rest of the kitchen light and breezy with light warm-gray counters, light walls and white subway tile. We chose a dimpled surface tile to bounce light like the sea and to create a more visual impact.
Our client loved the options but wasn't fully convinced (she was choosing between 2 options) until I pulled in a piece of art that she loved that seemed to pull all of the details together. This was a Eureka moment for her. The warmth in the background brought the brass detailing into view and the softness of the art softened the blue and white. She found this piece, "Judy the Smooth Haired Terrier" in North Carolina in Ocean Aisle Beach. Judy, you really brought the room together.
We brought in other pieces of hers to finish the space out. Antique artwork can really warm up a kitchen and make it feel like another gathering room in the house. As she spends a lot of time in this area, we wanted to make it an extension of all the cool things she collects. We brought several of pieces into the space along with some of her beloved mid century modern pottery. We put out a few of her Russel Wright pieces. These are beautiful and simple in their design. You'll also find some of her old books and her own brass detailing.
However, our favorite item of hers are the wooden Corbels! Though currently serving as a cookbook bookend (pun intended), their future home will be as an art installment to the left of the dining room window. (Stay tuned) These were salvaged from the Western Reserve Building in Cleveland, Ohio. Her parents scooped them out of the wreckage during the building's demolition. These were used to hold up a shelf, mounted on her parent's screen porch in Normal, IL. Now, they add some pretty cool character to her kitchen!
We love this kitchen! It was such a successful combination of our client's need and design leanings. We both agreed it was hard to be done and say goodbye! But the best part, and we promised we'd come back to this, (call back insert here) her dog Emma who was scared of us and would run and hide (you couldn't make eye contact!)- finally let us into her inner circle. We got to shake her paw and pet her! She hung out with me as we put the finishing details into the kitchen the last day. I felt honored. Not only did our client get an amazing kitchen, Emma got some social anxiety therapy. And we got befriended by the dog. Win for everyone!
For now, signing out of another successful job. Hope you all enjoy!
-Jen